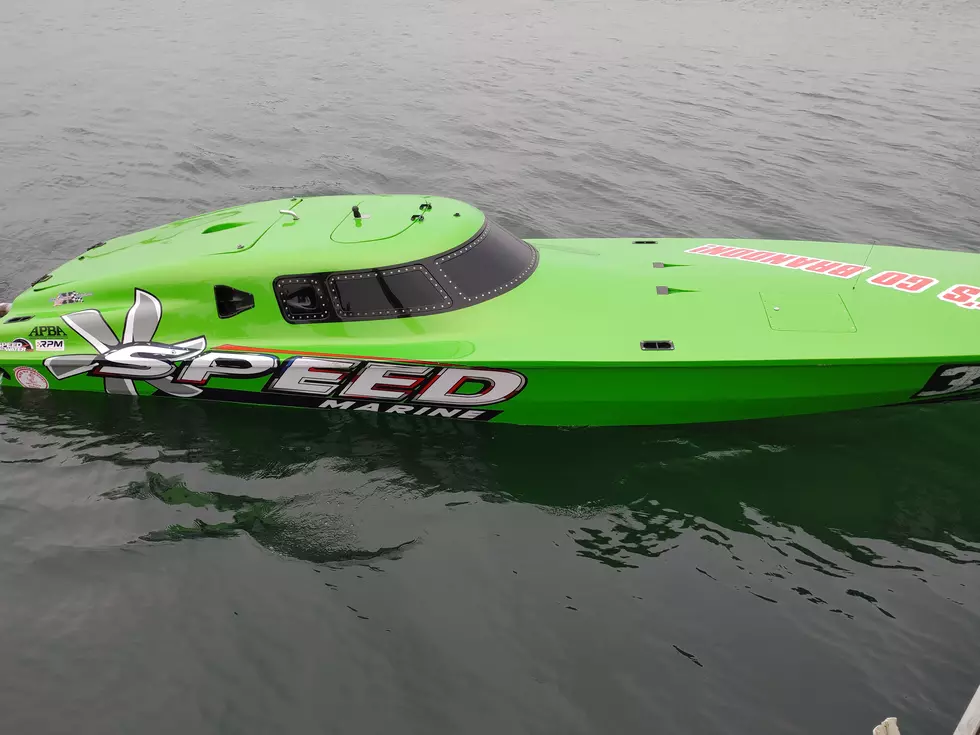 We're going to need a faster boat! Point Pleasant Beach, NJ Offshore Grand Prix hits the water this month!
(Photo: Vin Ebenau, Townsquare Media NJ)
You heard it here first back on May 22 when Point Pleasant Beach Mayor Paul Kanitra announced the 2022 edition of the Point Pleasant Beach Offshore Grand Prix would be taking place in the borough June 10-12, while Mayor Kanitra was a guest on 'Shore Time with Vin and Dave' on 94.3 The Point and 105.7 The Hawk.
It's time to rev up those engines and take off as a press conference in the borough this week announced that the Point Pleasant Beach Offshore Grand Prix put on by the New Jersey Offshore Powerboat Racing Association and sponsored by 'Jersey Mike's Subs', and varying events, will take place next weekend!
Point Pleasant Beach Mayor Paul Kanitra explains that this event in June will also provide a boost to the local economy.
"The race being positioned in early June is a huge boon for our local economy, it's very important to us and we're just looking forward to welcoming back the entire east coast and telling them that Point Pleasant Beach is open for business," Kanitra said at the press conference.
There is a weekend full of events leading up to and including the big fleets of races as well, but on race day, there's a special kind of adrenaline that runs through your veins as a spectator and a racer.
"These engines are loud, you can hear them from all over the town and all over the neighboring towns when they're going down -- it's just an adrenaline packed event, it's everything we're looking for in Point Pleasant Beach in terms of family-friendly atmosphere," Kanitra said.
For Kyle Miller and Jason Wohltman with Speed Marine LLC, located in Brick Township, whose team won the race last year, admit the waters were a little rough on their way to victory -- at least early on.
"Very, very rough -- it took us a little bit to catch onto it, we came into the setup and then I'd say we pretty much just ran away with it," Miller told Townsquare Media News prior to the press conference.
"After about Lap-3, we got out in front and just kept on going from there," Wohltman told Townsquare Media News.
For Speed Marine, Miller said that the boat they raced is called a 'Prostock V' that does speeds of between 75-80 mph.
"We're in a phantom -- we do all the rigging and everything else in house on engines and stuff like that," Miller said. "There's phantoms, extremes -- an activator as well out there."
Following a success at the 2021 Point Pleasant Beach Offshore Grand Prix where they won, Miller and Wohltman are looking forward to getting back out there next weekend and racing even with a little bit of pressure as well racing in front of the home crowd.
"We try our best, we really do, we try our best," Wohltman said.
"That's probably the best way to put it, I mean, we have even more stress here than when we go to Florida or one of those far races just because everybody we know is standing on that beach," Miller said.
They are both also hoping to provide a boost to their business at Speed Marine by performing well next weekend.
"We got a local business -- we have a performance marine shop right around the bend so nothing to push the business like winning another race here," Miller said. "We do full custom rigging and custom set-ups, anything you need done."
"General maintenance, anything in a performance boat, really," Wohltman said.
For Randy "Mad Dog" Schleuss, owner and throttle-man with Typhoon Racing, he's looking forward to being out there with his team in their 24th year participating in the Point Pleasant Beach Offshore Grand Prix.
"Last year we had a good run, a good start, unfortunately I went off a wave bad and got hurt so I had to pull in early but other than that the water was great, the venue is fantastic," Schleuss told Townsquare Media News.
It is a great thrill for Schleuss and others to be able to ride in, drive, and be a throttle-man in one of these boats on race day.
"Our top speeds -- probably in the 90 mph range, that would be in calm water, rough water -- probably in the mid 80's, give or take, so, all depending on the conditions," Schluess said. "It's a lot of fun, you get beat up, but it's like being in a boxing match, I guess, you just get beat right/left/up/down and bouncing all over, so when you get out, you're pretty sore."
The competitive nature of the racers then sets in along with racing in front of thousands of fans on the beach.
"That's the best part, that's why we all do it, it's that excitement," Schleuss said. "We really enjoy going out there -- you wake up in the morning, you really don't sleep good the night before, you get up early in the morning, you're too tired to eat or anything, you go to those drivers meetings, we have to do physicals and everything else, you get ready -- before you know it, you got a yellow flag in the pit area -- once they start up those motors, you get goosebumps up and down your back and everything and everyone's so excited."
There is a weekend full of events leading up to the big race day.
On Friday, you can head to the 'Pit Area' in the Point Pleasant Beach Train Station parking lot on Arnold Avenue and then to the "Meet the Racers" block party from 4:00 to 8:00 pm that will run from Arnold Avenue at Route 35 South to the Elks Lodge and see all the race boats, enjoy some music, check out some sidewalk sales and more.
On Saturday, the Pit Area will open up again and you can see the boats up close as well and the local Rotary will be selling official race t-shirts and programs with proceeds going to the "Little by Little Foundation" and then there will be a parade of boats from Arnold Avenue heading north to Ocean Avenue and ending on Broadway starting up at 5:00 pm.
On Sunday, Race Day, the first race begins at 12:00 pm and the second race begins at 2:00 pm and racers and all are invited to head to the Winner's Circle at the Wharfside Seafood and Patio Bar.
Here's a look from what these boats can do from the 2021 press conference event.
38 Jersey Shore Tourist Traps Even Locals Can't Resist
There are some places at the Jersey Shore visitors will seek out for their sheer notoriety. But, we'll let you in on a little secret. There are some, like AC casinos and Lucy the Elephant, we can't resist them either.
More From Cat Country 96.7 /104.1